BEYOND THE OBVIOUS 2023 Conference
Handle with Care | Culture for Social Well-being
7-8-9 June 2023, Elefsina, Greece
The program "Museum Educator Assistants" "travels to Europe"
through the presentation at the Beyond the Obvious Conference 2023 at Elefsina.
Project: Museum Educator Assistants 
(museum training program for adults aged 65+)
by the Hellenic Children's Museum and ANTAMA
The aim of the programme is to familiarize adults 65+ with museum education and with methods of working with children in museums, and to involve them in voluntary museum projects as assistant museum educators. It builds on the long tradition of the Hellenic Children's Museum's adult training programme for museum educators, which has been operating since 1988 (the oldest training programme in Greece on museum education), adding the element of active community involvement to enhance individual and social well-being. The project was designed and implemented with ANTAMA, a social enterprise that aims to combat ageism and empower older adults to participate in social life, in order to reach the target group and create a strong interdisciplinary team to support all cognitive, social and emotional needs of the programme participants.
The museum training program for adults 65+ took place from October 2022 until May 2023. On the occasion of the celebration of the International Museum Day (May 18th, 2023) and as part of the Practical Training the members of the "Museum Educator Assistants" team designed and implemented their own educational activities at the Children's Museum of Athens. One of them was the revival of the "perperouna" custom.
What is a "perperouna"?
The Perperouna is a custom connected with Spring and aims at the rain that is necessary for the crops. Usually, a young girl adorned with green foliage and flowers would walk around the village along with other girls, singing a song for the invocation for rain. The girl who was Perperouna symbolized nature and the water that fell on the earth from the green leaves symbolized the water of the rain that would come and save the crops. Many times, in addition to water, money was thrown, or flour and eggs were given, which were then used to make pies, which were shared throughout the community.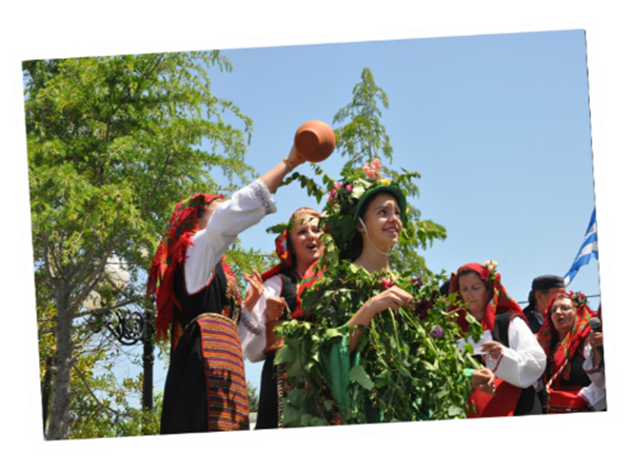 Perperouna walks
She walks strutting
Praying to God
To send a rain
A good, good, good rain
To make the meadows bloom
For the wheat to grow
To make the vines drunk
To make the wheat grow
Flumes, the water, flumes
In the dry fields
Every ear of corn is a sack
Every vineyard a jar.